Unique Guest Book Ideas
As a fun way to remember warm & fond memories of your special day, we cannot stress the importance of a guest book enough! Below we have included some unique ideas to turn your ordinary guest book into an eye-catching display that will have your guests racing for the pen! Scroll down for some inspiring ideas to kickstart your creativity!
Signature Tree Guest Book
This fun guest book alternative is a great D.I.Y. project for you and you sweetheart to prepare for that special day! This project requires stencils (we recommend looking these up through Google Images) & a background canvas. Simply color in the leaf and tree trunk stencil and cut around the shape! This is a fun & easy project that will double as a beautiful display for years to come!
Jenga Guest Book
The Jenga guest book is another unique idea that's a great way of getting your guests involved! This set up requires a game of Jenga (of course!), a few different colored sharpies, and a large sign to display (pictured above). Get creative & add some flair like props to make the display stand out, and don't forget to tell your guests to brush up on their Jenga skills in the meantime!!
Quilt Guest Book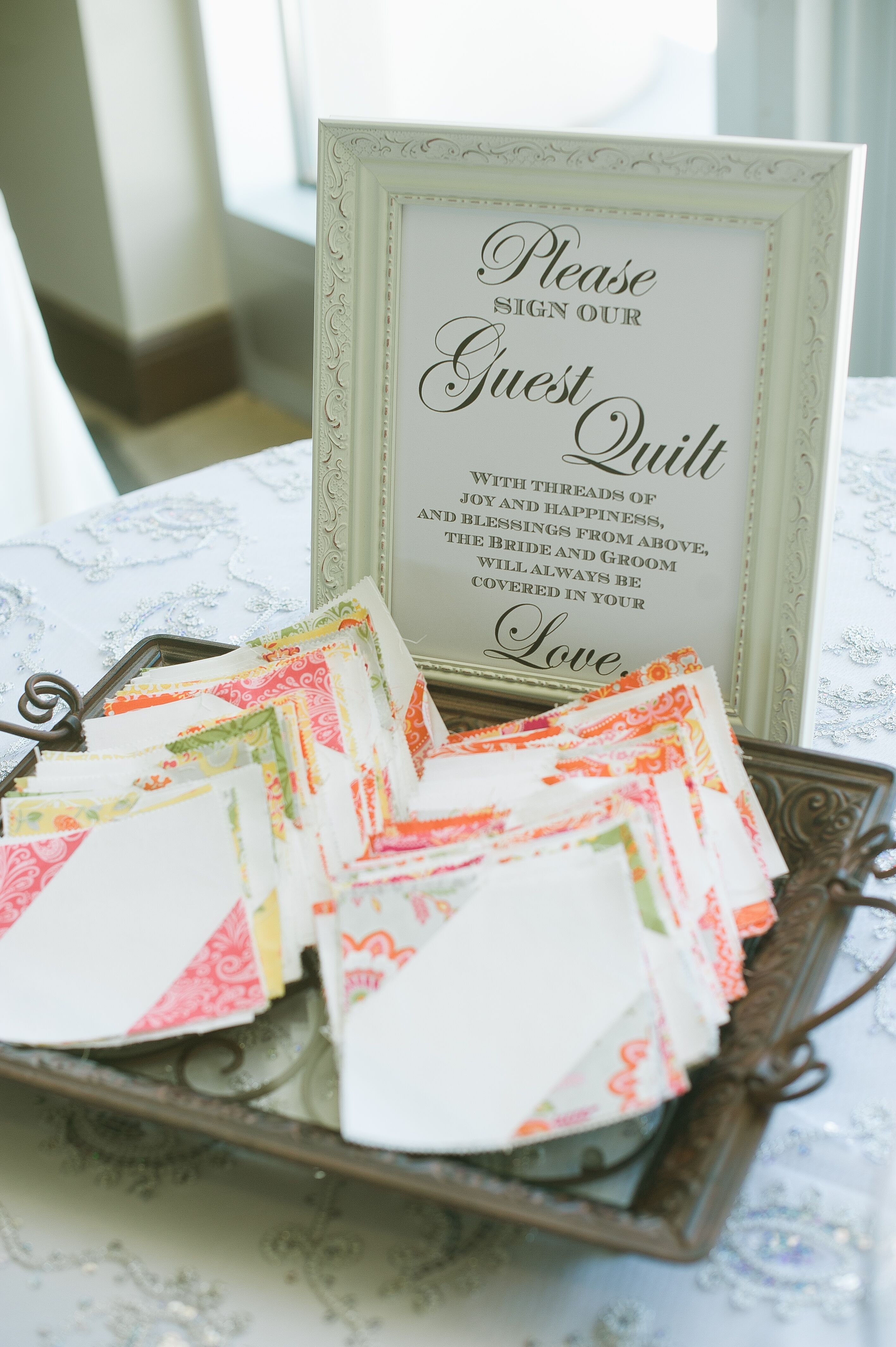 The quilt guest book is another fun alternative to get everyone involved! You'll need some square pieces of fabric & a pen, along with a sewing table & kit. Incorporating your color palette maybe a good idea as well! Drape it somewhere special on display for a cozy way to remember that special day!
Wine Cork Guest Book
Wine lovers, start saving those corks now! This idea simply requires a good number of corks & a marker for guests. You can get creative with the final assembly, such as making a picture frame like the photo above. This fun DIY idea is sure to make the next toast to your love even more special! (:
Thumb Print Guest Book
The thumb print guest book is another creative way to engage your guests, while being extremely easy as a DIY project! All that's required is paint, a good-sized piece of sturdy paper, and your guest's imaginative touch! Consider using the same colors as your wedding color palette and adding a frame for a captivating final display.
We are so excited for the warmer weather & outdoor events coming up for summer! Give us a call & discuss how we can help make your dream event a reality!
Lonny Bierk
NJ Wedding Pros
740 River Rd. Suite 240
Fair Haven, NJ 07704
njweddingpros@gmail.com
http://www.njweddingpros.com
732-747-0900